Please note:
One upper and one lower retainer are included in your treatment fee.
For best results, retainers should be worn full time (except when eating) for the first 6 months after your braces are removed.  Following the first 6 months, retainers should be worn overnight.
Your treatment fee includes one upper and one lower retainer as well as two follow up retainer check appointments.  The initial retainer check appointment is typically scheduled 3 months following delivery of your retainer and a second retainer check appointment is scheduled about 7 months later.
Essix Retainers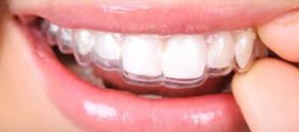 Essix retainers are made of hard, durable plastic and are virtually invisible.  They are comfortable and should only be taken out for eating unless otherwise instructed by Dr. Marc.  Be sure to protect the results of your orthodontic treatment by wearing your retainer per our instructions.  Retainers are costly to replace so if its not in your face, it should be in your case!  Stop by if you ever need a new case for you retainer.
Lingual

This type of retainer cannot be seen as it bonded behind the teeth.  It is not removable and can last for many years.  Lingual retainers are not possible on every patient so they require Dr. Marc's approval.